Peterson Health Expanding Care in Fredericksburg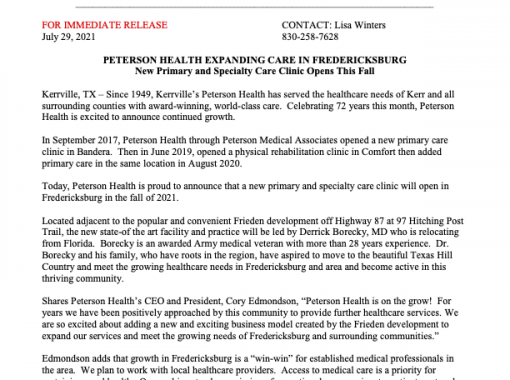 Yesterday Peterson Health announced their expansion into Fredericksburg with new medical offices to be finished out along Highway 87. Kristan Weaver led our Brinkman team negotiating the lease terms and tenant improvements for Peterson Health.
Peterson Health medical offices will anchor the medical and neighborhood commercial in Fredericksburg's new Friedën development, Texas' first Southern Living inspired community, two miles east of Main Street.
Friedën also offers 242 residential acres of Sunday, Mittel and Farm haus sites. Visit Friedën's website to learn more about their homes and the community. The mixed use development brings together the best homes, neighborhood and community retail, offices, and health care in Gillespie County.
For information call Brinkman Commercial Properties: Kristan and our team of experts are ready to help–